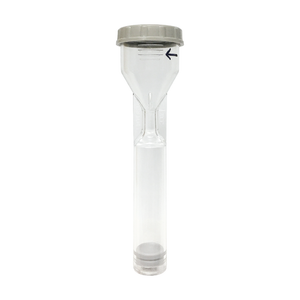 * Please note, this product is NOT for PRP extraction.
   You will need i-STEM PRP Tubes to use this balancing tube.
'Balancing Tube for i-STEM PRP Kit' looks almost the same as the i-STEM PRP Tube, but it is

only used for balancing the tubes

during centrifugation.
It's always recommended to use even number of tubes to get a good result of centrifugation to prevent fluctuation.
If you only have one sample to extract, you can place a balancing tube on the other side to keep the balance.
How to Use
When rotating 1 PRP tube, fill the balancing tube with water to the line indicated with the arrow.

Place the PRP tube filled with patient's blood in your centrifuge, and place the balancing tube in the opposite spot to face towards the PRP tube, and start centrifugation.
Cautions
This item is not intended for PRP extraction. Do not use the balancing tube for extracting PRP, since it is not sterilized.