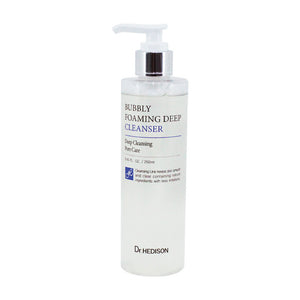 For retail and wholesale price, please contact us. Thank you!
Features

All-in-one cleansing foam (deep cleanser & bubble mask)
Rolling on face creates dense bubbles that help with deep cleansing
Makes skin healthier by cleansing pore wastes and makeup residues.
It is a cleansing gel which makes skin clear and gets rid of wastes on pores by forming bubbles like carbonic acid skin.
It contains vegetable extracts which are effective in  soothing and purifying.
How to Use
Pump proper portion of it on hand
Make bubbles then apply and rub it on skin softly

Then wash off with warm water
Cautions:
In case of causing cosmetics or after use, if there is abnormal symptom or side effect such as red spot, swelling, or itching caused by direct sunlight. Please, consult dermatologist. 
Do not use wounded area
Precautions for storage:
Keep out of reach of children
Keep away from direct sunlight