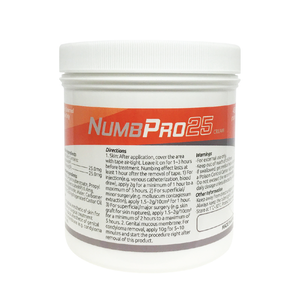 500g

Lidocaine 25 mg & Prilocaine 25 mg

Topical Anesthetic Numbing Cream is used for

procedures

with high risk of pain.

It will temporarily numb the area where it was applied.

This relieves existing pain from a surface of skin or prevents pain during procedures/medical treatments.

Multi Purposes: Micro needling, Frackle, Mole Removal, Age Spot Removal, Derma Roller,Tattoo, Piercing, Permanent make up, Laser treatments, Hair removal, Waxing, Dermabrasion and etc.,

High Concentration of Lidocaine 25 mg and Prilocaine 25 mg
How to Use
Wash the area receiving laser treatment or procedure with soap and water

Dry the area completely

Apply a thick amount of numbing cream to the area and rub in thoroughly. Place an additional thin layer of cream over the area

Cover the cream with plastic wrap for 30-40 minutes

The heat under the plastic wrap helps activate the cream and keeps the cream from drying off until it is removed by the professional before the procedure.

Remove in section as the procedure progresses

The numbness of skin will last about 1-4 hours once the cream is removed.

*The result of numbness can be different depending on skin type and location on the body. Because of this reason, we don't guarantee the result of numbness.
Cautions
Topical anesthetic medications must be selected carefully and used in proper amounts in order to prevent harmful reactions. For instance, some topical drugs should be used only on intact skin to avoid rapid absorption into the body. 

Do not use if patients has allergy to Lidocaine

Do not apply to wounded area

Do not apply more than 2 times a day

Do not use if patients are pregnancies

Do not use for patients with Liver or Kidney diseases

External use only

Severe to rare side effects may include allergic reactions like hives, rash, itchiness, facial swelling, and difficulty in breathing or tightness in the chest. Please, consult with a dermatologist
Precautions for Storage
Keep out of reach of children

Keep away from direct sunlight
Ingredients

Lidociane, Prilocaine(EP), Methyl -Hydroxybezoate, Propyl p-Hydroxybezoate, Sodium Hydroxide, Water, Carbomer 940, PEG-60 Hydrogenated Castor Oil